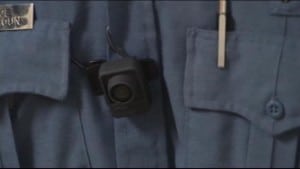 In a follow up to a previous post, Houston City Council last week approved the purchasing of body camera's for roughly 4,000 Houston Police Officers.  This is a big win for the citizens of Houston; body cameras create accountability for police officers when interacting with citizens.  At the same time they can also protect the officer against allegations by citizens – this is a win-win for both officers and citizens.
More importantly, it's not just making the purchase of the cameras, the content and more importantly the enforcement of the department's body camera policies will be  crucial for them to be successful in the field. (more…)
Share the post "Houston City Council Approves HPD Body Cams"
---
Last week the Houston Police Department announced that on December 9, 2013 the department launched a pilot program that outfitted 100 officers with body cameras.   Each camera costs $2,500 and

has the ability to record both audio and video.HPD
There are many benefits to any officer wearing a body camera to all parties involved in a police encounter.  Although there are differing opinions as to who benefits more the officer or the citizen, the citizen ultimately has the most to gain by there use.  When encounters are electronically recorded there becomes less of a question as to what really happened and limits the possibility of fabrication as to all parties involved.
The Houston police department should be applauded for giving this program a trial run and will hopefully implement body cameras across the department after the trial period is concluded.  If body cameras are deployed department wide that implementation should be in addition to the dash cameras already in place and not a replacement for them.
If you or someone you know has been arrested or charged with a criminal offense in Texas you should immediately contact Attorney Matthew Gallagher.  He can be reached by phone at (713) 893-4350 or by e-mail at [email protected].
Share the post "HPD outfits officers with body cameras in a new pilot program"
---